Mother's Day and 2 Months
Cooper's 2 month birthday coincided with Mother's Day yesterday so it was a big day for celebrating! I had a wonderful day thanks to my loving husband and cute little son. It was kind of weird to have a holiday like that to celebrate this year for me and not just about sending cards and flowers and things to my mom and grandmother, but very cool and I can't wait until Father's Day in June to help Cooper celebrate his daddy's day!
I woke up yesterday morning and went out into the family room where Austin was holding Cooper in his lap on the couch. I looked down and in Cooper's hand was a card. I took the card from him and opened it up and it was a cute Snoopy card from Cooper to his mommy. The funny part was that I looked down at Cooper after I read it and Cooper was sitting there with the HUGEST smile on his face. It was like he was so proud of his card and that he knew that the card was supposed to be from him. I asked him if he had helped his daddy pick it out and he just kept smiling and laughing. It was so cute and made my morning. After that, Austin gave me a card as well and then took me to see my gifts. The first gift was a gorgeous flower arrangement that he had done with hydrangeas (my favorites) and some other really pretty flowers in a huge periwinkle pot that was our wedding color. It was so awesome! Here's a picture of it on our front porch - Austin is quite talented at this - I can't wait to come back from Florida because he is going to work on our flower beds next weekend while we're gone and he's home alone!
Cooper and Austin also got me the cutest little charm to add to my charm bracelet. It is in the shape of a diaper and has blue sapphires in it with a little silver heart. It is beautiful! Austin's parents also gave me a really cute silver charm of a little boy with a tiny diamond in it. Here's a picture of them both (although the picture doesn't really do them justice) - the one from his parents is on the left, the one from Cooper and Austin is on the right.
Other than that, we spent most of the day packing up my maternity clothes and Austin's winter clothes and getting out our summer clothes. I can wear the shirts for sure and most of the skirts and things. I am slowly trying on some of the pants/skirts to see, but even though I've already lost over 30 pounds and am only 3 pounds from my pre-pregnancy weight, the place where it is left is right around the tummy so stuff that zips and buttons is still a little tight. I'm not worried about it though because it's only been 2 months, and I'm proud of how much I have already lost and know that I will continue to lose more because I started a
walking program
that I'm hoping will help (and now that we have a treadmill I have no excuse!).
Then we went to P.F. Chang's in downtown Fort Worth for dinner last night with Austin's parents and brother. It was SO yummy - we hadn't been there in a LONG time and it tasted so good. :) Cooper was the best and slept the entire time through dinner even through his normal scheduled feeding time (we fed him when we got home and he was just fine!). We took a few pictures, and I thought I would share this one of Cooper and his mommy!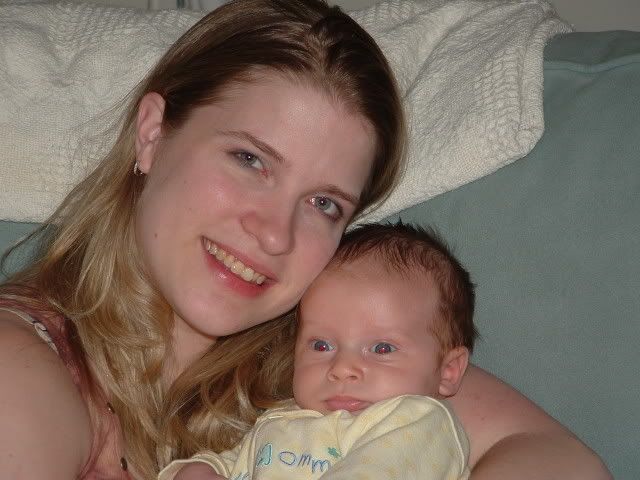 Today, we went to see the pediatrician for Cooper's 2 month checkup. He got his first round of shots (other than the Hepatitis shot he had in the hospital already). He got 5 vaccines in 4 shots. He didn't like it much, but he wasn't as bad as I thought he might be and I handled it well so that was good! The good news is that he seems to be doing great and is very healthy. He weighs 13 pounds 9 ounces (no I'm not kidding), and the craziest part is that he is 25.5 inches long!!!!!!! Our pediatrician predicts that based on Austin and my height plus the family history that he will probably be anywhere between 6 foot 4 inches to 6 foot 7 inches when he is grown up! We are going to have one tall boy! And since we are big Mavs fans, Austin says he is putting a basketball in Cooper's hands as soon as he'll take it so that he can prepare him for the future - I'm still rooting for professional golf although professional basketball wouldn't hurt either! LOL
Sorry for the long post, but I had a lot to say! Cooper is laughing now every so often which is AWESOME and smiling like crazy which he has been for a few weeks now. Such a cutie but I'm biased! That's all for now - we leave on Saturday for Florida so I have a lot to get done this week before we go, but I'll definitely post again soon! :) GO MAVS - BEAT THE SPURS!