Happy Birthday to Me!
Yesterday was probably one of the best birthdays I've had in a LONG time. I was a little concerned since this week has been difficult for me, but it turned out to be great! Despite the fact that we got so busy trying to help meet an impossible and unnecessary deadline and therefore didn't get to eat lunch until 2:45 yesterday afternoon, it was still a good day!
Yesterday morning was rather uneventful. Since we missed lunch at a normal time, we still ended up going, and the girls I work with paid for my lunch which is always a treat. Also, one of them had made cupcakes which we ate at 4. Yesterday was day of eating for me - lol! When I got back from my 2:45 lunch, I had beautiful flowers waiting for me at my desk. Austin sent this awesome arrangement of sunflowers (my favorite flower) to work for me to enjoy. I left them here to enjoy again today and then will bring them home tonight, so I don't have a picture of them yet!
When I got home after work, I walked in to quite a surprise. Austin had snuck away from work early and decorated our whole apartment. There were rose petals all over the stairs and floor (he's got some good flower connections!), balloons, confetti, streamers, and a big Happy Birthday banner.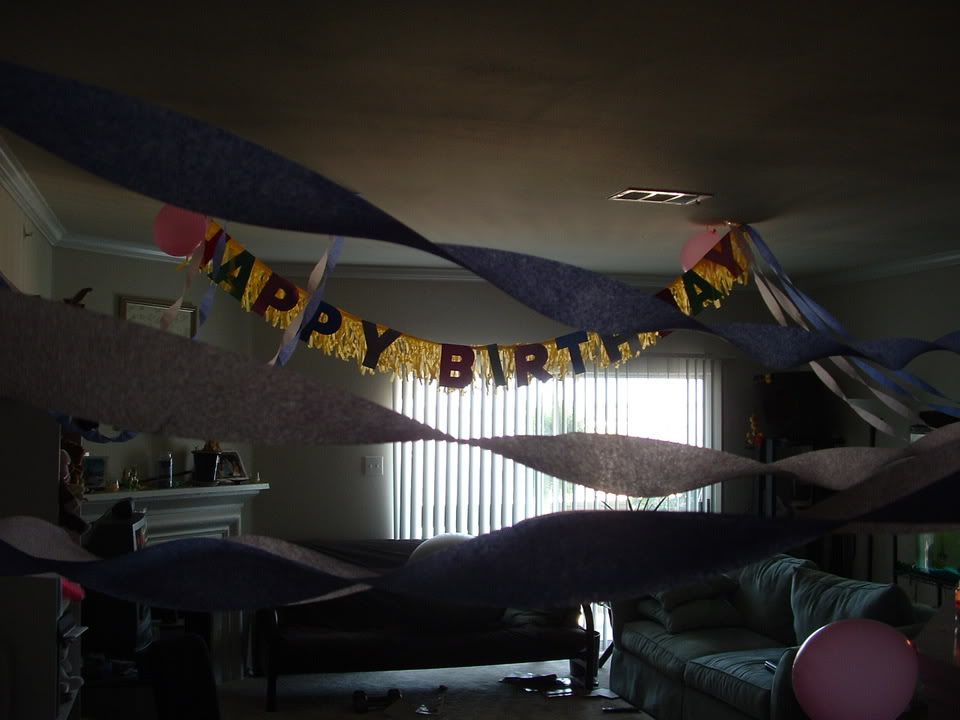 Plus there was a cute monkey balloon that goes along with my bananas themed post of the other day :)
and a wonderful yummy cake from Celebrity Bakery!
I opened a few presents from my parents and grandmother. Austin had already done enough, but he had that smile when he's trying to hold something back. So then he comes out with this little gift bag. Inside was an awesome tanzanite and diamond ring. I love tanzanite (purple stone) and have been wanting one for quite some time, and he found the perfect one. It is so pertty and very modern looking in design, and I just love it. Here is a picture of it, the best one we could get because the sparkly jewels make the camera get fuzzy or bring in too much light if you use a flash. You'll have to see it in person to get the true effect! :)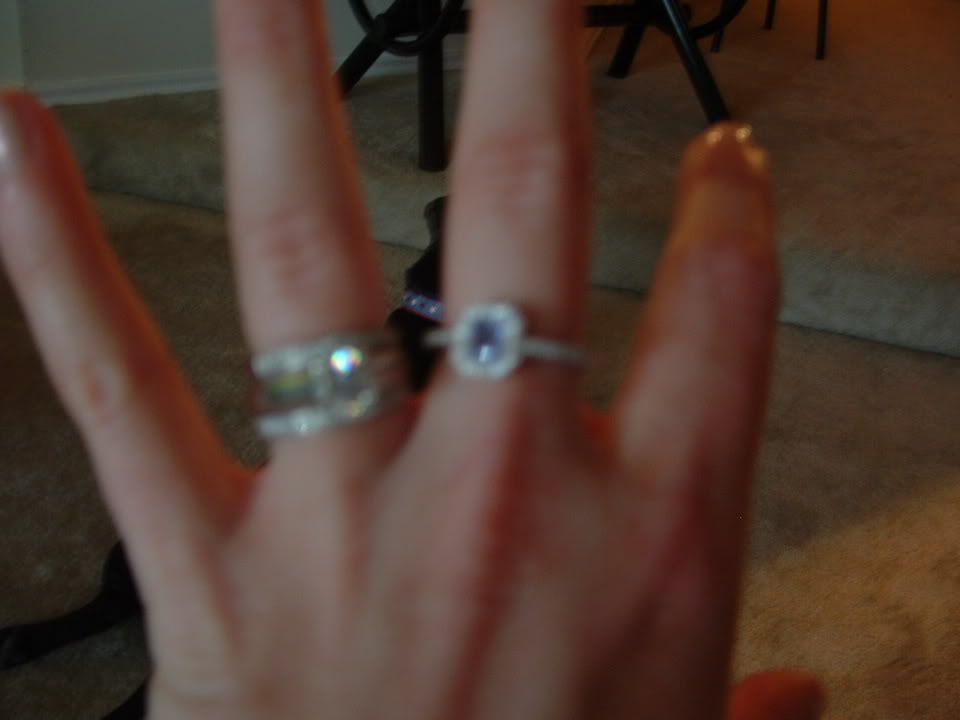 Needless to say, I am one lucky woman! We went and had a great dinner at Benihana's last night, my favorite, and I just had one great birthday!!! Now I just need to make it through today, run home and pack, and take the dog to the pet hotel, and we are off on our long weekend adventure to the nation's capitol, Jen's wedding, and a quick vacation!
I will try to take a picture and upload it tonight of my flowers because they are just too pretty not to show also! I'll post this then too, but have a great weekend and see you on Monday! :)